Family book project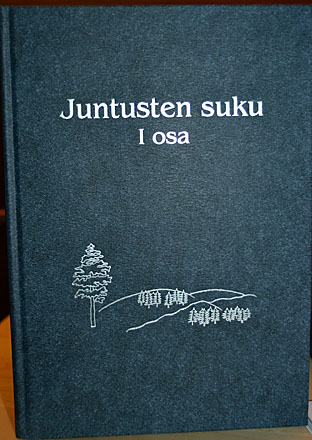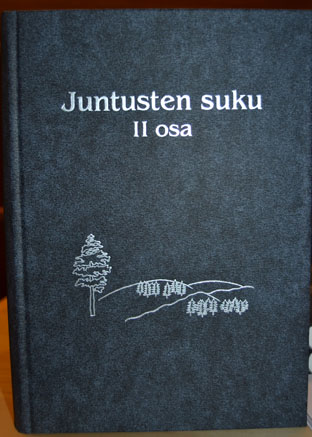 FAMILY BOOK PROJECT
Juntunen Family Book is divided into three volumes. The first part of this series is published at the end of 1998. The author of the first book is genealogist Matti J. Kankaanpää
The First Volume contains the ancestors and families of the Juntunen family born before the year 1800 (1550-1800). The Second Volume from 1800 to 1900 and The Third Finnish Volume from 1900 - . There will also be a volume telling about the Family History of US and Canadian immigrants.
The order price of The First Volume is 40 € for members and 55 € for non-members. The order price in the USA is $90.

Part II of the Family book
Part II covers years 1800 - 1900, and continues the story of part I directly. Part II is remarkable wider than part I and the family tables of vol II have a direct connection with the tables of vol I.
Many Juntunens moved to the U.S.A. and Canada at the end of 1800's and at the beginning of 1900's. The book gives the roots for the descendants of these people.
The book is written in Finnish but the family tables are easy to follow by any. There is plans to write an English addentum but there is no decisions yet.
The order price of The Volume is 60 € for members and75 € for non-members.
Author Jarmo Paikkala is experienced genealogist and has written several books of the families of eastern Finland.
You can order both books from
Tilitoimisto Eila Säkkinen (email: eila.sakkinen ( at) suomussalmi.net)
Part III of the Family book series
We continue collecting family data. Our aim is to get as so complete product as possible from year 1900 until today. There exists many problems with the opus: The family is spread wide all over the world, many family sheets will consist of living people and the society needs the permission to publish the data in this kind of opus.
The society has already collected large amount of data but we continue collecting as aim to get the opus as covering as possible. We wish to get also stories and photos because without them the opus will be only the skeleton of family sheets. Especially the stories of the emigrants would be interesting. You can send the data by snail mail using this sheet. Or you can sen the data also by email, the email is considered as your permission to publish the data. It is important that your data has connection with some family table in the Family book II.
---